Contribution to the restoration of the General Lew Wallace study in Crawfordsville, IN
Although perhaps best known for writing Ben-Hur, Lew Wallace rose to the rank of Major General in the Civil War and participated in the battles of Fort Donelson, Shiloh, and Monocacy.  In addition, he organized and directed the defense of Cincinnati in September, 1862.  After the war, Wallace retired to his home in Crawfordsville, IN.  
Completed in 1898, Wallace was said to have built his study because he wanted "a pleasure-house for my soul," that would be "a detached room away from the world and its worries." Wallace died in his home on February 15, 1905.  The study was declared a National Historic Landmark in 1976 and in 2008 was awarded a National Medal from the federal Institute of Museum and Library Services.  By 2010 the study was badly in need of restoration.
The first step in the restoration process was the demolition of the old wiring and electrical system and the installation of new wiring.  This work was complicated because the original wiring was installed prior to the finish plastering.  
The second  phase of the project involved the restoration of the interior paint finishes as created by Wallace 20 years ago. Conservators were hired to remove nine l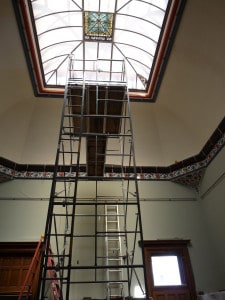 ayers of over-paint to see what might have survived from the 1890s. Although Wallace's unusual study was widely covered in the press during construction, the finishing touches were never documented. Researchers had generally dismissed the possibility of finding decorative paint finishes in the study because no one–including the Wallace family–recalled these elaborate treatments.  Restoration revealed that instead of finding the eight vignettes that were thought to be present, thirty-two were uncovered, and they were 95% intact! The talented restoration team revealed the tastefully elaborate Victorian finishes Wallace enjoyed.
The restoration of the interior of Lew Wallace's study was completed in 2014.