Purchase of seven cannonballs that became part of the reconstructed Lytle Monument at Chickamauga Battlefield.
Lytle Monument prior to Restoration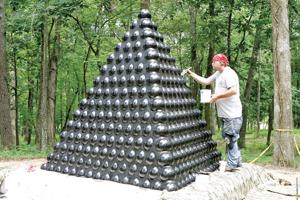 Lytle Monument during Restoration
Posted: Monday, July 22, 2013 6:13 am in the Walker County Messanger
The Lytle monument was originally built in 1894 on the site where Union Gen. William Haines Lytle of Cincinnati fell from his horse after being fatally shot by a Confederate sniper on Sept. 20, 1863.  That monument, a 15-stack artillery shell pyramid containing 323 cannonballs, was rebuilt by Flintstone-based Lookout Metalworks.  "We rebuilt this one from scratch," company owner Mark Phillips said. "It has a steel skeleton with a concrete interior that contains 160 80-pound bags of concrete mix that were hand-pressed into place."The cannonballs were welded to the skeletal frame for support and security. This is one of eight such monuments to generals who died during the three-day battle that claimed more than 34,000 casualties (killed, wounded, captured or missing).
Lytle was a lawyer and a politician, but was known nationally for his poetry, which was often memorized by school-age children.  "He was often called the poet-warrior," Chickamauga and Chattanooga National Military Park superintendent Cathy Cook said. The high regard shown Lytle the civilian was also observed on the battlefield.  Upon discovering Lytle's body, a Confederate soldier who served with the slain general during the Mexican-American War guarded his body out of respect until it was claimed by Union troops. Later on that September evening, Confederate soldiers recited Lytle's poems during an evening campfire.  His body was transported by soldiers from both forces back to Cincinnati, under a flag of truce, which was a rare occurrence as most men were buried where they fell.
The original Lytle monument began to loose its luster after 1936. Some cannonballs were removed by vandals and others were scavenged to repair monuments in more visible locations throughout the park. That continued until, for decades, all that remained was a single layer of cannonballs.  A desire to recreate the full monument in time for the 150th anniversary of the battle led to a significant fundraising effort involving the Sons of Union Veterans and the Friends of the Park groups.  What remained of the original cannonballs were salvaged and will be kept for future repairs to other displays throughout the park.
New cannonballs costing $200 each were cast at a Chattanooga foundry and provided the material for Phillips, a Civil War buff who has served as contractor on numerous restoration projects in the local battlefield parks to recreate the monument. Along with his two brother-in-laws, Lee and Tracy Collins, he said workers used the original drawings to guide their 31-day effort to replace the Lytle monument.
The three men have spent the past seven years restoring many of the 150 cannons and 450 historic tablets that are placed along the roads that wind through the park. "This is one of the largest preservation projects that Friends of the Chickamauga and Chattanooga National Military Park has undertaken in many years," Cook said. "We're very excited about the reconstruction of the Lytle monument."